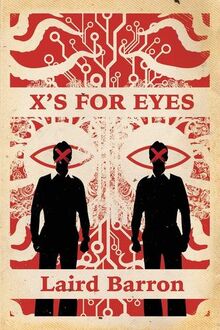 Title: X's for Eyes
Author: Laird Barron
Publisher: JournalStone
Publication Date: December 11, 2015
Brothers Macbeth and Drederick Tooms should have it made as fair-haired scions of an impossibly rich and powerful family of industrialists. Alas, life is complicated in mid-1950s USA when you're child heirs to the throne of Sword Enterprises, a corporation that has enshrined Machiavelli's The Prince as its operating manual and whose patriarch believes Now I am become Death, the destroyer of worlds would be a swell company logo.

Consider also those long, cruel winters at the Mountain Leopard boarding school for assassins in the Himalayas, or that Dad may be a supervillain, while an uncle occasionally slaughters his nephews and nieces for sport; and the space flight research division of Sword Enterprises "accidentally" sent a probe through a wormhole into outer darkness and contacted an alien god. Now a bloodthirsty cult and an equally vicious rival firm suspect the Tooms boys know something and will spare no expense, nor innocent life, to get their claws on them.
Between the machinations of the disciples of black gods and good old corporate skulduggery, it's winding up to be a hell of a summer vacation for the lads.
Ad blocker interference detected!
Wikia is a free-to-use site that makes money from advertising. We have a modified experience for viewers using ad blockers

Wikia is not accessible if you've made further modifications. Remove the custom ad blocker rule(s) and the page will load as expected.