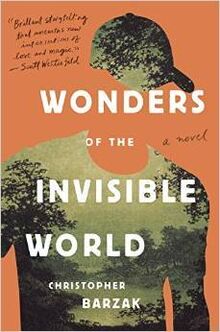 Wonders of the Invisible World by Christopher Barzak
Published by Knopf Books for Young Readers, September 2015
Aidan Lockwood feels like he's been sleepwalking through life, each day as hazy and unremarkable as the one before it. But when his former best friend, Jarrod, suddenly moves back to town, the veil that has clouded Aidan's mind begins to lift. Yet what Aidan discovers is that his world is haunted by stories of the past; stories that he has somehow been prevented from remembering. 
But visions from the past come to him unbidden, starting with an old apple tree—a gnarled, dead thing—that haunts Aidan's sleep, and seems to beckon to him from across his family's orchard. And then there are the dreams that show him people and places he's only heard of in family stories: a great-grandfather on the field of battle; his own father, stumbling upon an unspeakable tragedy; and a mysterious young boy whose whispered words may be at the heart of the curse that now holds Aidan's family in its grip. 
But there's another presence lurking within this invisible world—someone who has been waiting to collect on a debt set into motion generations ago. As the lines between the past and the present, stories and truths, friends and lovers begin to blur, Aidan will be forced to spin a story of his own to protect those he loves, and keep the invisible world at bay.
Ad blocker interference detected!
Wikia is a free-to-use site that makes money from advertising. We have a modified experience for viewers using ad blockers

Wikia is not accessible if you've made further modifications. Remove the custom ad blocker rule(s) and the page will load as expected.