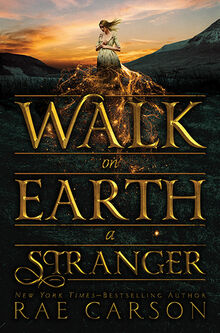 Title: Walk on Earth a Stranger
Author: Rae Carson
Publisher: Greenwillow Books
Publication Date: Sept 22nd, 2015
Series: The Gold Seer Trilogy #1
Lee Westfall has a strong, loving family. She has a home she loves and a loyal steed. She has a best friend—who might want to be something more.
She also has a secret.
Lee can sense gold in the world around her. Veins deep in the earth. Small nuggets in a stream. Even gold dust caught underneath a fingernail. She has kept her family safe and able to buy provisions, even through the harshest winters. But what would someone do to control a girl with that kind of power? A person might muder for it.
When everything Lee holds dear is ripped away, she flees west to California—where gold has just been discovered. Perhaps this will be the one place a magical girl can be herself. If she survives the journey.
Ad blocker interference detected!
Wikia is a free-to-use site that makes money from advertising. We have a modified experience for viewers using ad blockers

Wikia is not accessible if you've made further modifications. Remove the custom ad blocker rule(s) and the page will load as expected.