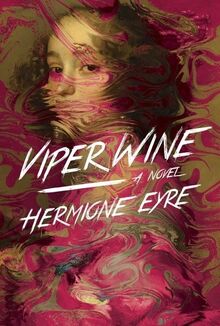 Title: Viper Wine
Author: Hermione Eyre
Publisher: Hogarth
Publication Date: 14 April 2015
Derscription, by Lucy Scholes [The Guardian]: "Despite her husband's protestations to the contrary, the ravages of time (and lead) are clearly visible on Venetia Stanley's face. A beauty once "more spoken of than seen, like a great sight of nature, a cave or a crystal", the poet Ben Jonson's muse and Van Dyck's famed subject, she signs a Faustian pact with the apothecary Lancelot Choice for his notorious viper wine, the dangerous potion behind the plump cheeks, dilated pupils and general air of wantonness observed in the ladies of Charles I's court.
Her husband, Sir Kenelm Digby, is many things – alchemist, explorer, philosopher, courtier, son of a gunpowder plotter – but foremost a loyal and loving husband who still sees the stunning woman he married when he gazes upon his wife, something that comes as no surprise considering his mind is "double-hinged" and can "go forwards as well as back". In as much as he haunts the future – "He would, in time, become a so-called crypto-Catholic; a 'renaissance man'; an emblem of mourning; a dilettante avant la letter (and before 'avant la lettre'); a touchstone for Nathaniel Hawthorne, named in The Scarlet Letter; a cameo in a novel by Umberto Eco; and, possibly, the hero of a subscription-channel costume drama" – the future haunts him: he quotes David Bowie and Neil Armstrong, reads JavaScript and dreams of Naomi Campbell."
Ad blocker interference detected!
Wikia is a free-to-use site that makes money from advertising. We have a modified experience for viewers using ad blockers

Wikia is not accessible if you've made further modifications. Remove the custom ad blocker rule(s) and the page will load as expected.