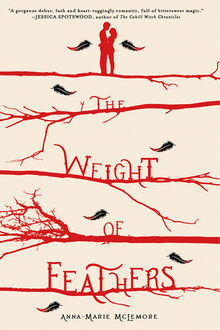 The Weight of Feathers by Anna-Marie McLemore
Published by Thomas Dunne, September 2015
Publisher's description: For twenty years, the Palomas and the Corbeaus have been rivals and enemies, locked in an escalating feud for over a generation. Both families make their living as traveling performers in competing shows—the Palomas swimming in mermaid exhibitions, the Corbeaus, former tightrope walkers, performing in the tallest trees they can find. 
Lace Paloma may be new to her family's show, but she knows as well as anyone that the Corbeaus are pure magia negra, black magic from the devil himself. Simply touching one could mean death, and she's been taught from birth to keep away. But when disaster strikes the small town where both families are performing, it's a Corbeau boy, Cluck, who saves Lace's life. And his touch immerses her in the world of the Corbeaus, where falling for him could turn his own family against him, and one misstep can be just as dangerous on the ground as it is in the trees.
Ad blocker interference detected!
Wikia is a free-to-use site that makes money from advertising. We have a modified experience for viewers using ad blockers

Wikia is not accessible if you've made further modifications. Remove the custom ad blocker rule(s) and the page will load as expected.