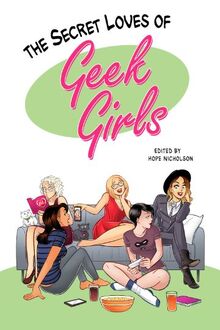 The Secret Loves of Geek Girls, edited by Hope Nicholson
Published by Bedside Press on December 9, 2015
Publisher's description: The Secret Loves of Geek Girls is an exciting new nonfiction anthology of comic and prose stories from women in fandom. All the stories in this collection revolve around personal experiences and thoughts on romance, sex, and dating. Stories include personal accounts of using fanfiction to understand your sexuality, childhood crushes on Spock and Sailor Moon, heartbreak at comic conventions, and maintaining long-distance relationships using online gaming.
Ad blocker interference detected!
Wikia is a free-to-use site that makes money from advertising. We have a modified experience for viewers using ad blockers

Wikia is not accessible if you've made further modifications. Remove the custom ad blocker rule(s) and the page will load as expected.