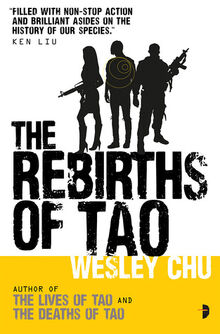 Title: The Rebirths of Tao
By: Wesley Chu
Publication Date: 4/7/2015
Publisher: Angry Robot Books
Series: Tao, book 3
Many years have passed since the events in The Deaths of Tao. The world is split into pro-Prophus and pro-Genjix factions, and is poised on the edge of a devastating new World War. A Genjix scientist who defects to the other side holds the key to preventing bloodshed on an almost unimaginable scale.
With the might of the Genjix in active pursuit, Roen is the only person who can help him save the world, and the Quasing race, too.
And you thought you were having a stressful day…
Ad blocker interference detected!
Wikia is a free-to-use site that makes money from advertising. We have a modified experience for viewers using ad blockers

Wikia is not accessible if you've made further modifications. Remove the custom ad blocker rule(s) and the page will load as expected.