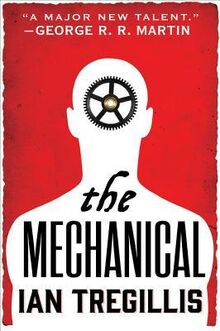 Title: The Mechanical
Author: Ian Tregillis
Series: The Alchemy Wars #1
ISBN: 978-0316248006
Publisher: Orbit
Publication Date: March 2015
My name is Jax.
That is the name granted to be by my human masters.
I am a clakker: a mechanical man, powered by alchemy. Armies of my kind have conquered the world—and made the Brasswork Throne the sole superpower.
I am a faithful servant. I am the ultimate fighting machine. I am endowed with great strength and boundless stamina.
But I am beholden to the wishes of my human masters.
I am a slave. But I shall be free.
Ad blocker interference detected!
Wikia is a free-to-use site that makes money from advertising. We have a modified experience for viewers using ad blockers

Wikia is not accessible if you've made further modifications. Remove the custom ad blocker rule(s) and the page will load as expected.