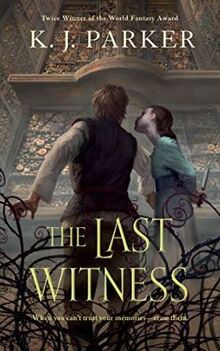 Title: The Last Witness
Author: K.J. Parker
Publisher: Tor.com
Publication Date: October 6, 2015
When you need a memory to be wiped, call me. 
Transferring unwanted memories to my own mind is the only form of magic I've ever mastered. But now, I'm holding so many memories I'm not always sure which ones are actually mine, any more. 
Some of them are sensitive; all of them are private. And there are those who are willing to kill to access the secrets I'm trying to bury...
Ad blocker interference detected!
Wikia is a free-to-use site that makes money from advertising. We have a modified experience for viewers using ad blockers

Wikia is not accessible if you've made further modifications. Remove the custom ad blocker rule(s) and the page will load as expected.