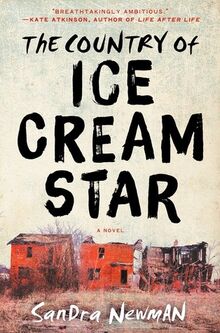 Title: The Country of Ice Cream Star
Author: Sandra Newman
Publisher: Ecco
Publication Date: February 10, 2015
In the ruins of a future America, fifteen-year-old Ice Cream Star and her nomadic tribe live off the detritus of a crumbled civilization. Theirs is a world of children; before reaching the age of twenty, they all die of a strange disease they call Posies--a plague that has killed for generations. There is no medicine, no treatment; only the mysterious rumor of a cure.
When her brother begins showing signs of the disease, Ice Cream Star sets off on a bold journey to find this cure. Led by a stranger, a captured prisoner named Pasha who becomes her devoted protector and friend, Ice Cream Star plunges into the unknown, risking her freedom and ultimately her life. Traveling hundreds of miles across treacherous, unfamiliar territory, she will experience love, heartbreak, cruelty, terror, and betrayal, fighting to protect the only world she has ever known.
Ad blocker interference detected!
Wikia is a free-to-use site that makes money from advertising. We have a modified experience for viewers using ad blockers

Wikia is not accessible if you've made further modifications. Remove the custom ad blocker rule(s) and the page will load as expected.