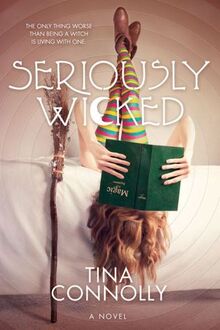 Seriously Wicked by Tina Connolly
Published by Tor Teen, May 2015
Publisher's description: The only thing worse than being a witch is living with one. 
Camellia's adopted mother wants Cam to grow up to be just like her. Problem is, Mom's a seriously wicked witch. 
Cam's used to stopping the witch's crazy schemes for world domination. But when the witch summons a demon, he gets loose—and into Devon, the cute new boy at school. 
Now Cam's suddenly got bigger problems than passing Algebra. Her friends are getting zombiefied. Their dragon is tired of hiding in the RV garage. For being a shy boy-band boy, Devon is sure kissing a bunch of girls. And a phoenix hidden in the school is going to explode on the night of the Halloween Dance. 
To stop the demon before he destroys Devon's soul, Cam might have to try a spell of her own. But if she's willing to work spells like the witch...will that mean she's wicked too?
Ad blocker interference detected!
Wikia is a free-to-use site that makes money from advertising. We have a modified experience for viewers using ad blockers

Wikia is not accessible if you've made further modifications. Remove the custom ad blocker rule(s) and the page will load as expected.