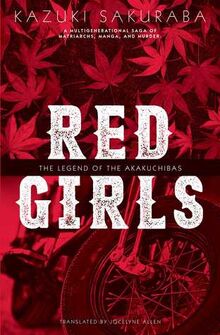 Red Girls: The Legend of the Akakuchibas
Author: Kazuki Sakuraba
Translator: Jocelyne Allen
Publisher: Haikasoru
Publication Date: April 21, 2015
When the Outland People abandoned a baby girl on the outskirts of a village, few imagined that she would grow up to marry into the illustrious Akakuchiba family, much less that she would develop clairvoyant abilities and become matriarch of the illustrious ironworking clan. Her daughter shocks the village further by joining a motorcycle gang and becoming a famous manga artist. The Outlander's granddaughter Toko—well, she's nobody at all. A nobody worth entrusting with the secret that her grandmother was a murderer.
This is Toko's story.
Ad blocker interference detected!
Wikia is a free-to-use site that makes money from advertising. We have a modified experience for viewers using ad blockers

Wikia is not accessible if you've made further modifications. Remove the custom ad blocker rule(s) and the page will load as expected.