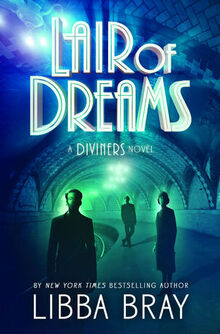 Title: Lair of Dreams
Author: Libba Bray
Publisher: Little, Brown Books for Young Readers
Publication Date: August 2015
Series: The Diviners #2
After a supernatural showdown with a serial killer, Evie O'Neill has outed herself as a Diviner. With her uncanny ability to read people's secrets, she's become a media darling, earning the title "America's Sweetheart Seer." Everyone's in love with the city's newest It Girl…everyone except the other Diviners.
Piano-playing Henry DuBois and Chinatown resident Ling Chan are two Diviners struggling to keep their powers a secret—for they can walk in dreams. And while Evie is living the high life, victims of a mysterious sleeping sickness are turning up across New York City.
As Henry searches for a lost love and Ling strives to succeed in a world that shuns her, a malevolent force infects their dreams. And at the edges of it all lurks a man in a stovepipe hat who has plans that extend farther than anyone can guess…As the sickness spreads, can the Diviners descend into the dreamworld to save the city?
Ad blocker interference detected!
Wikia is a free-to-use site that makes money from advertising. We have a modified experience for viewers using ad blockers

Wikia is not accessible if you've made further modifications. Remove the custom ad blocker rule(s) and the page will load as expected.