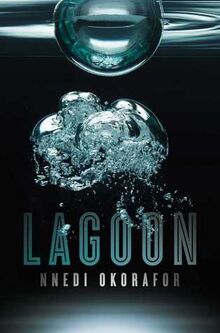 Title: Lagoon
Author: Nnedi Okorafor
Publisher: Saga Press
Publication Date: July 14, 2015
Note: "Lagoon" was initially published in the UK in 2014. However, new Hugo eligibility rules render "Lagoon" eligible for the 2016 ballot, as it was first published in the US in 2015, and it did not make the final Hugo ballot in 2015.
It's up to a famous rapper, a biologist, and a rogue soldier to handle humanity's first contact with an alien After word gets out on the Internet that aliens have landed in the waters outside of the world's fifth most populous city, chaos ensues. Soon the military, religious leaders, thieves, and crackpots are trying to control the message on YouTube and on the streets. Meanwhile, the earth's political superpowers are considering a preemptive nuclear launch to eradicate the intruders. All that stands between 17 million anarchic residents and death is an alien ambassador, a biologist, a rapper, a soldier, and a myth that may be the size of a giant spider, or a god revealed.
Ad blocker interference detected!
Wikia is a free-to-use site that makes money from advertising. We have a modified experience for viewers using ad blockers

Wikia is not accessible if you've made further modifications. Remove the custom ad blocker rule(s) and the page will load as expected.