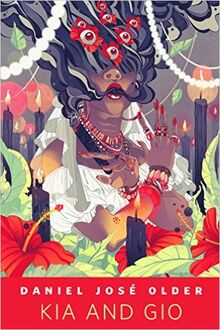 Title: Kia and Gio
Author: Daniel José Older
Published in: Tor.com (Jan 6 2015)
Description, by Lois Tilton [Locus]: "Kia is supposed to be working this Saturday in her uncle's botánica, but she can't concentrate today on anything but Giovanni, who fills her mind despite the fact that he's been missing for the last six years. At the time, she was ten years old and determined to marry him, considering it no obstacle that he was gay, but even Kia could see at last that he was in love with Jeremy. So no surprise that Gio never hesitated to defend him when Jeremy was attacked by a group of apparent revenants in the night. And was never seen again. Yet until today, Kia never gave up hope that he might be out there, somewhere, in the world, eventually to return. YA dark fantasy/love story with a flavor of santería."
Ad blocker interference detected!
Wikia is a free-to-use site that makes money from advertising. We have a modified experience for viewers using ad blockers

Wikia is not accessible if you've made further modifications. Remove the custom ad blocker rule(s) and the page will load as expected.