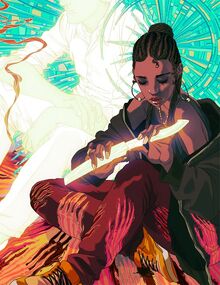 By Daniel José Older
Published in Tor.com
Publication date: 5/20/2015
Publisher's description: "Between her obscenely muscular new capoeira teacher, her crush going off with a new girl in their favorite park, and trigonometry homework, Kia figures she has enough going on without some creepy ghost causing car crashes and hit-and-runs in her neighborhood. Carlos Delacruz, the half-dead half-resurrected soulcatcher for the New York Council of the Dead, would love to keep her out of it, but things don't usually go the way he intends. From the world of Daniel José Older's immensely popular Bone Street Rumba series."
Ad blocker interference detected!
Wikia is a free-to-use site that makes money from advertising. We have a modified experience for viewers using ad blockers

Wikia is not accessible if you've made further modifications. Remove the custom ad blocker rule(s) and the page will load as expected.