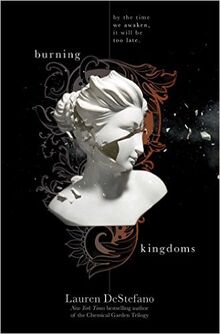 Title: Burning Kingdoms
Author: Lauren DeStefano
Publisher: Simon & Schuster
Publication Date: March 10th 2015
Series: The Internment Chronicles Book 2
After escaping Internment, Morgan and her fellow fugitives land on the ground to finally learn about the world beneath their floating island home. 
The ground is a strange place where water falls from the sky as snow, and people watch moving pictures and visit speakeasies. A place where families can have as many children as they want, their dead are buried in vast gardens of bodies, and Internment is the feature of an amusement park. 
It is also a land at war. 
Everyone who fled Internment had their own reasons to escape their corrupt haven, but now they're caught under the watchful eye of another king who wants to dominate his world. They may have made it to the ground, but have they dragged Internment with them?
Ad blocker interference detected!
Wikia is a free-to-use site that makes money from advertising. We have a modified experience for viewers using ad blockers

Wikia is not accessible if you've made further modifications. Remove the custom ad blocker rule(s) and the page will load as expected.