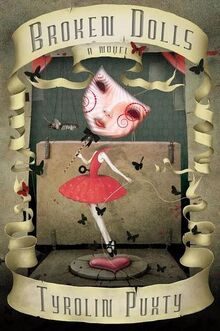 Broken Dolls by Tyrolin Puxty
Published by
Series: Broken Dolls #1
Ella doesn't remember what it's like to be human; after all, she's lived as a doll for thirty years. She forgets what it's like to taste, to breathe...to love. 
She watches the professor create other dolls, but they don't seem to hang around for long. His most recent creation is Lisa, a sly goth. Ella doesn't like Lisa. How could she, when Lisa keeps trying to destroy her? 
Ella likes the professor's granddaughter though, even if she is dying. It's too bad the professor wants to turn Gabby into a doll, depriving her of an education...depriving her of life. 
With time running out and mad dolls on the rampage, Ella questions her very existence as she unearths the secrets buried in her past; secrets that will decide whether Gabby will fall to the same fate...
Ad blocker interference detected!
Wikia is a free-to-use site that makes money from advertising. We have a modified experience for viewers using ad blockers

Wikia is not accessible if you've made further modifications. Remove the custom ad blocker rule(s) and the page will load as expected.