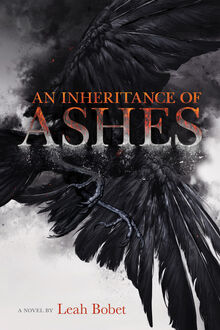 An Inheritance of Ashes by Leah Bobet
Published by Clarion, October 2015
Publisher's description: Six months ago, the men of the lakelands marched south to fight a dark god. 
Weeks after the final battle was won, sixteen-year-old Hallie and her sister, Marthe, are still struggling to maintain their family farm—and are waiting for Marthe's missing husband to return. After a summer of bitter arguments, Hallie is determined to get Roadstead Farm through the winter—and keep what's left of her family together, despite an inheritance destined to drive them apart. 
But when Hallie hires a wandering veteran in a bid to save the farm, every phantom the men marched south to fight arrives at her front gate. Spider-eyed birds circle the fields, ghostly messages writes themselves on the riverbank, and soon Hallie finds herself keeping her new hired hands despite desperate secrets—and taking dangerous risks. But as she fights to keep both the farm and her new friend safe, ugly truths about her own family are emerging—truths that, amid gods, monsters, and armies, might tear Roadstead Farm apart. 
Ad blocker interference detected!
Wikia is a free-to-use site that makes money from advertising. We have a modified experience for viewers using ad blockers

Wikia is not accessible if you've made further modifications. Remove the custom ad blocker rule(s) and the page will load as expected.