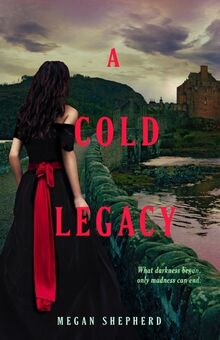 A Cold Legacy by Megan Shepherd
Published by Balzer + Bray, January 2015
Series: The Madman's Daughter #3
Publisher's description: After killing the men who tried to steal her father's research, Juliet—along with Montgomery, Lucy, Balthazar, and a deathly ill Edward—has escaped to a remote estate on the Scottish moors. Owned by the enigmatic Elizabeth von Stein, the mansion is full of mysteries and unexplained oddities: dead bodies in the basement, secret passages, and fortune-tellers who seem to know Juliet's secrets. Though it appears to be a safe haven, Juliet fears new dangers may be present within the manor's own walls. 
Then Juliet uncovers the truth about the manor's long history of scientific experimentation—and her own intended role in it—forcing her to determine where the line falls between right and wrong, life and death, magic and science, and promises and secrets. And she must decide if she'll follow her father's dark footsteps or her mother's tragic ones, or whether she'll make her own.
Ad blocker interference detected!
Wikia is a free-to-use site that makes money from advertising. We have a modified experience for viewers using ad blockers

Wikia is not accessible if you've made further modifications. Remove the custom ad blocker rule(s) and the page will load as expected.